Upcoming Events
March 25, 2017 ~ 11am-4pm
Maple Syrup Family Day
Due to the forecasted rain, some shelter will be provided. Dress for the weather and come out to the Park.
Sap drip-drip-dripping from the majestic maple trees, steam swirling around the bubbling sap, cotton candy made with maple sugar (a new treat this year), demos about how syrup is made, story telling in the log cabin, tours and exhibits in the historic buildings. Enjoy a day outside in the Richfield Historical Park at this free event....Read More
March 30, 2017 ~ 7pm
"Native American Writings"
"The weight of ashes 

from burned out camps.
Lodges smoulder in fire,
animal hides wither
their mythic images shrinking
pulling in on themselves,
all incinerated
fragments
of  breath  bone and basket 
rest heavy 
sink deep 
like wintering frogs.
And no dustbowl wind
can lift 
this history 
of loss"--written by Kimberly Blaeser who will present an interesting program on the Anishinaabe Indian tribe and its culture ....Read More
July 22, 2017 ~ 9am-4pm
Richfield Art at the Mill
2017 Artist Guidelines
2017 Artist Application Form
2017 Vendor Guidelines
2017 Vendor Application Form

Note: Quota for jewelry artists has been reached.
Summer Tours - New in 2017
For the first time in several years, the historic buildings in the Richfield Historical Park will be open on scheduled days May through August. Not only can you tour most of the buildings, but you can participate in engaging activities such as grinding coffee, washing clothes, and much more....Read More
September 16 & 17, 2017 -- 19th Annual Thresheree
RHS in Action
Great Progress on the Blacksmith Shop
The blacksmith shop at the Richfield Historical Park is getting more of a finished look with the siding being installed. You can help get this new venue completed as well as have your name on a horseshoe in the shop...Read More
Wish List for the Lillicrapp Welcome Center
Do you have an old wire egg basket, crock, or spool cabinet which you
don't display in your home but can't bring yourself to toss out? RHS is looking for these items and several more to enhance the General Store display in the Lillicrapp Welcome Center. Read about this interesting display and see the entire Wish List....Read More
New Footbridge Across the Raceway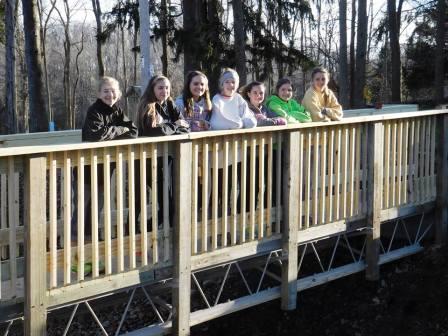 Now there is a convenient way to get from the Mill House, across the raceway and to the Lillicrapp Welcome Center. Girl Scout Troop 2280 from Friess Lake School has undertaken the project of building this footbridge to earn their Silver Award....Read More
Donors to Messer/Mayer Mill Fund Etch Their Names in
History. The Fund to restore the Messer/Mayer Mill is growing. Much of this growth is due to those persons whose donations entitle them to a recognition brick....Read More
Past Features of RHS in Action