Upcoming Events
19th Annual Thresheree
September 16 & 17, 2017
Fall is just around the corner, and it's time for you to see how threshing was done years ago using steam power. At this fun family event, there are unlimited things to see and do: build a log cabin, see logs sawed, watch shingles being made, smell in-ground cooking, and much more. New this year is a Live Auction on Saturday; Scavenger Hunt in the Mill House, and Barn Photography in the Lillicrapp Welcome Center....Read More

Christmas at the Historical Park
December 2, 2017
Visit the Richfield Historical Park and enjoy an old-fashioned celebration. Details to follow.

Antiques, Appraisal and Chili Lunch
February 18, 2018
Call for Antique Dealers

This event will be offering more than appraisals and a delicious chili lunch in 2018. Antique dealers are invited to display and sell their antiques. A new location will provide more exhibit space. Click on Guidelines to learn what is expected. Then, click on the Registration Form. Print, fill in the information and send it to the address listed on the form along with your booth fee.
Antique Dealer Guidelines
Antique Dealer Registration Form

RHS in Action
Did You Take a Step Back in Time at the Richfield Historical Park?
On the 2nd Sunday of May through August, visitors had fun doing the daily chores from long ago....Read More
Paintings, Silk Scarves, Stone Lamps, Wooden Pens....
These were just a few of the many
wonderful works of art that could be seen and purchased at the 2017 Art at the Mill. In addition, you could taste samples of fudge, nuts, and even get a homemade treat for your pet. The rich tones of an alto sax floated throughout the park and the smell of burritos lured you to the food tent....Read More
Great Progress on the Blacksmith Shop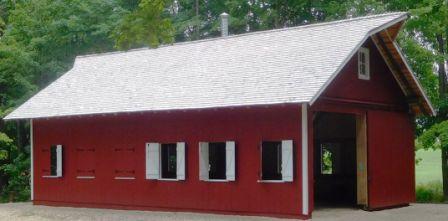 The blacksmith shop at the Richfield Historical Park has that finished look with the siding being painted a traditional red. The shutters and doors are all in place.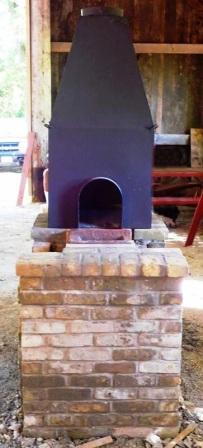 The forge has been installed and chimney is in place. You can help get this new venue completed as well as have your name on a horseshoe in the shop...Read More
What Was Farming Like at the Turn of the Century?
A team of RHS volunteers is
talking with many folks who were from farming families 'back in the day'. These persons are sharing their stories--otherwise this valuable history would be lost....Read More
Wish List for the Lillicrapp Welcome Center
Do you have an old wire egg basket, crock, or spool cabinet which you
don't display in your home but can't bring yourself to toss out? RHS is looking for these items and several more to enhance the General Store display in the Lillicrapp Welcome Center. Read about this interesting display and see the entire Wish List....Read More
Get the Mill Grinding
Donors to Messer/Mayer Mill Fund can etch their names in
history. The Fund to restore the Messer/Mayer Mill is growing. Much of this growth is due to those persons whose donations entitle them to a recognition brick....Read More
Past Features of RHS in Action